Apr 28 2016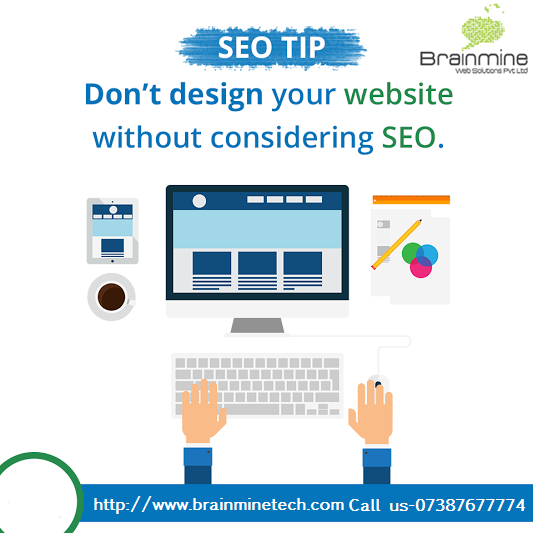 You must agree that no one looks beyond the first two pages of a search result made on any of the search engines. That is where SEO comes into picture. Search Engine Optimization (SEO) is about enhancing the visibility of a website or a web page in a search engine's unpaid results. Brainmine does this for you with excellent results. If you are in need of SEO Services in Delhi or SEO Services in Noida then Brainmine can help you achieve the kind of search engine ranking you want for your website.
Brainmine is all about result-driven services. A renowned digital marketing company, Brainmine takes care of SEO, Link Building, Local Search, PPC, Content Creation, Web Design, Social Media and Conversion Videos. Experts at Brainmine not only plan the best strategies for your requirements, but also put them into action so that you can stay a step ahead of your competitors.
Professionals at Brainmine believe that every business can benefit by improving its ranking on search engines like Google and Yahoo, and the benefits of ranking in the top are tremendous. The company has been offering exceptional SEO Company in Delhi. With Brainmine by your side, you have the advantage of industry knowledge, and some of the best technical talent in India. The company consistently surpasses its clients' expectations by bringing together technology, skills, creativity and the highest quality standards.
Brainmine offers end-to-end SEO services including search engine marketing, on page search engine optimization, off page search engine optimization, local search engine optimization, website audit and monthly reporting. SEO specialists at Brainmine undertake detailed investigation of clients' business and SEO requirements before they offer you a quote. They completely understand that every company has different operation scale, markets, and competition.
Brainmine brings to desk years of expertise offering SEO Services in Noida and Delhi. Its professionals do their best to understand your customer base, your current SEO position and your goals. You will be offered with reasonable benchmarks achievable over defined periods of time, and constant support over phone/ email. With Brainmine as your SEO partner you can be sure of getting the best ROI on your investment.
Brainmine has associated with several big, small and startup companies to help them improve their search rankings, grow their organic traffic, and stay strong for years to come. The company helps you get to the first page in Google Search and build links for SEO. Partner with them and significantly improve your website's search engine rankings. Brainmine offers the best SEO Services in Delhi and Noida, and personalized prices to best suit your needs.
Brainmine's SEO services are targeted on how your website can appear high in the results for the specific searches likely to generate more qualified leads for your business. Contact them today, and get to know how you can see your business prosper on the World Wide Web.