Jul 19 2016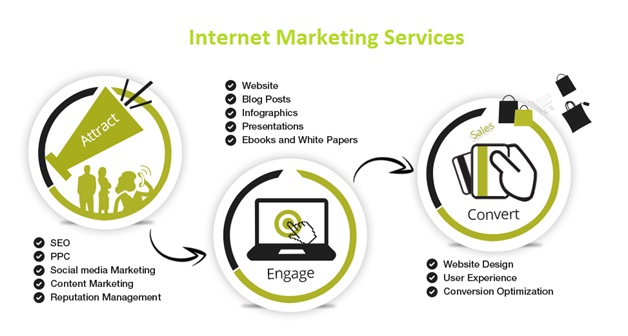 Hiring an internet marketing company in India can be highly rewarding for your business. Nevertheless, the market is flooded with agencies that promise big results and selecting one that meets your short-term and long-term goals can prove to be the most difficult conundrum. While partnering with an online marketing company in India can be a great investment, shortlisting the wrong agency can prove both costly and damaging for your business.
Indian business scene is particularly dominated by traditional marketers who have zero to somewhat understandingof internet marketing. Trusting a third party with their online marketing strategy may not come easily to them. So here we discuss the five essential aspects that you must look for when hunting for a professional marketing agency.
1.       Expertise at online marketing

We are in a time where users are increasingly spending time on the internet accessing all sorts of information across devices and multiple platforms. Undoubtedly, a performance-driven online marketing company in India needs to have expertise across multiple digital channels. Look out for an agency that has a proven track record of boosting leads and sales in the internet space. Marketing agencies employ various tools and technologies, so it is advisable to question them on what tools they use for project management and analysis.

2.       Experience in your domain

There can be times when even a well-experienced agency can yield no results for a particular business. It is important to check whether a prospective agency understands your business needs, customer profile, and short-term and long-term business goals. Look at their portfolio to know if they have worked with a company in your industry, your business size, and whether their proposal is tailored to your needs.

3.       In sync with industry changes

When looking for a smart and professional internet marketing company in India you would want to go for the one that stays up to date with industry changes. The easy way to check on this is by going through their blog and social media profiles. Even better, you can ask them upfront that how they stay updated in such a dynamic industry. You can gauge their honesty and confidence, and can simply decide whether they are a 'go' or 'no-go'.

4.       Particular about whom they will work with

When presented with two agencies, first one that takes up work for any and every company it comes across, and second one that is selective about whom it will work with  – which one do you think will be more reliable? Yes, the second one. Professionals never run after any random assignment. On the contrary, when presented with a work opportunity they take time to analyze their skillsets, expertise and capability to deliver. An internet marketing company in India that is clear on its priorities will be definitely trustworthy, and able to offer you the best value for your money.

5.       Focus on your business growth and revenue
You may come across various agencies with some that focus solely on attractive designs, some on social media marketing, and others that strategize on lead generation. Well, these are not the best ones. For an expert online marketing company is way ahead of these standalone goals, focusing on your business growth, expansion, and revenue.