Dec 18 2014
With the help of SEO and other online marketing techniques, today SME's contribute 17% to GDP of Indian Economy. SEO is certainly a boon to various SME's. As per the Government data, the latest IT tools and online internet marketing techniques have enhanced the SME's revenue to grow by 56 billion dollars and this has ultimately created 1.1 million jobs for people. Yes, there are about 48.1 million enterprises recruiting 110 million people. The unemployment rate has become less.
India is ranked second for SME's:
Many Indian companies have felt and seen a dramatic business growth because of the SEO services. SEO, also known as Search Engine Optimization allow the small businesses to start their digital journey with any SEO Company in Pune that can change their visions into reality. If we see the SME's breakdown of various countries, first is China, India is ranked second, USA is on 3rd position, Japan on 4th and Singapore on 5th. If we see the data urban India is 26.5 million and rural India is 21.6 million.
Facts about internet usage:
About 95% of USA SMEs are working on internet and they are ranked number second by GDP. In china only 22 percent SME's are not aware about the internet and in India still 90% of SME's do not have access to internet and unaware about it. So if India adopts the online marketing techniques and IT tools and get in touch with the reputed internet marketing company in Pune they can make a huge difference to the businesses of Indian SME's online. The SMEs revenue can grow by 56 billion dollars and more than 1.1 million new jobs can be created.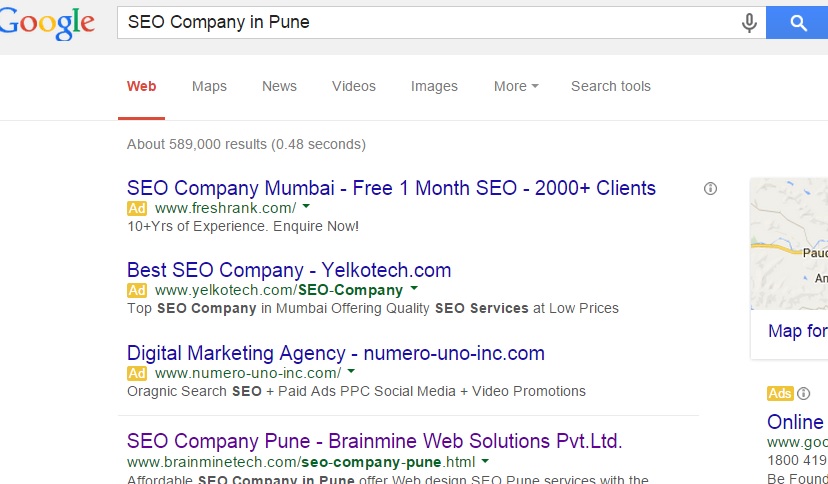 How SEO companies are helping?
SEO companies have helped millions of businesses on the World Wide Web to gain online presence and with the right traffic diverted to their site, they have generated immense amount of revenue. Thus, many SME's have been benefitted undoubtedly with the various types of SEO services. Services like Google Adwords can help to generate new leads and improve online sales, Google maps can help to locate the business easily and quickly and search engine optimization offer a rise in the conversion ratio and profitability. It also helps the SME's to get found by the target market. Choosing the keywords is a very important task in SEO and it is one of the SEO features that have helped the small and medium sized enterprises to grow their business online.
As per the research the SME's who adopted relevant SEO methods have received 20 to 25 percent rise in the revenue. Government of India is running campaigns like Digital India and adopting these new initiatives can be extremely helpful for your business. To begin your journey one of the best SEO Company in India is Brainminetech that can enhance your market reach using the best SEO methodologies. They make use of various SEO algorithms which will improve your business presence online, help your business generate revenue and ultimately the Indian economy GDP rate will be improved drastically.