Jul 26 2019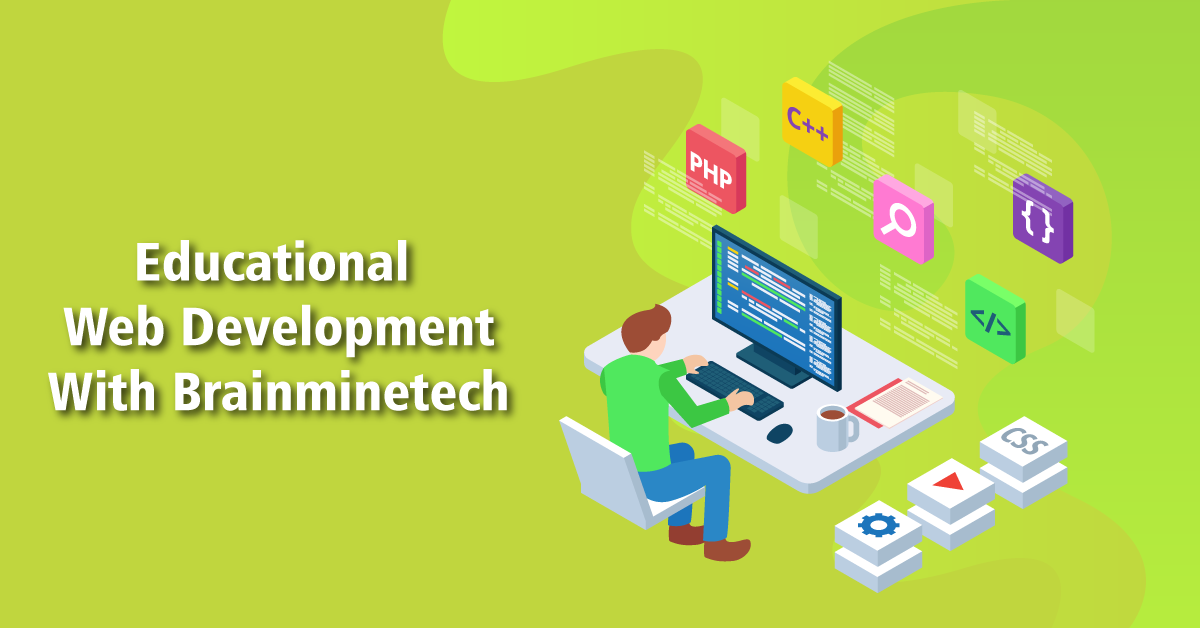 Education isn't an exception to the ever-growing use of the internet. Gone are those days when students had to spend hours in the library searching for answers, seeking references, verifying facts, etc. and then and come up with their observations and inferences. Today, every answer, irrespective of the subject a student is studying, is available on the internet. So, right from human anatomy to astrophysics, everything is right there, available on the internet!
Educational web development, in this regard, has played an instrumental role. It is associated with the development of various education-related websites, including e-learning, digital libraries, science websites, and others. These websites facilitate quick and ready-to-use information to student across the globe. Brainmine Tech, the best website design company in Pune, through this blog, we discuss the different types of educational websites, including some more benefits of web development.
5 Types of Educational Websites
Let us now take a look at 5 of the popular types of educational websites.
1. Language Learning Websites
These websites focus on online language training sessions that help learners learn the skills of reading, writing, comprehending, and speaking a particular foreign language. Some of the popular language-learning websites are Open Culture, Livemocha/ Bilingua, Busuu, Babbel, Internet Polyglot, Learn a Language, etc.
2. Educational Video Websites
Visuals are usually found to be more effective when it comes to learning and comprehending concepts. Besides their learning efficacy, videos facilitate relatively quick learning than text, and which is why they are extremely popular among modern-day students as well as teachers. Some of the most popular education video websites are Teacher Tube, Discovery Education, Ted Videos, National Geographic Video, Neo K12, and many others.
3. How to Websites
How-to websites have been on the web spectrum for quite a long time. These websites cater to a wide range of how-to questions. Some of the most popular examples of how-to websites include EHow, WikiHow, and many other emerging ones.
4. Science Websites
Science projects have been an inseparable part of every student's learning process. Unlike yesteryears, the frequency of science-based projects in schools as well as colleges has increased to a large extent, and which is why students require the assistance of such science websites regularly. These websites offer a larger amount of information on various science-related subjects such as biology, physics, chemistry, mathematics, astronomy, botany, etc. in a simple and in a language that's easy to comprehend for all types of students.
Also, with technological advancements in web development technologies, these websites have become interactive, thus improving the quality and the pace of learning. Some of the most popular science learning websites are Edheads, Curiosity Machine (AI), The Exploratorium, Teachers TryScience, and many others.
5. Digital Libraries
Digital libraries, as the name suggests, are digital repositories offering educational information stored in digital formats including videos, audio, text information, images, books, and in various other ones facilitating convenient learning. Some of the popular digital libraries include Google Books, Universal Digital Library, World Digital Library, and others.
Some other types of educational websites are OpenCourseWare (comprised of free lessons and educational content published by universities), web documentaries (non-linear interactive documentary productions blending text, animation, video, infographics, etc.), and tertiary educational websites.
The Benefits of Educational Web Development
The benefits of educational web development aren't just limited to students but extend to benefit teachers as well. Teachers too, use educational websites on a large scale. The interactive training and learning techniques employed in these websites offer a whole new perspective to teachers, who can further incorporate these techniques in conventional classrooms, and thus help students with a better understanding of the concepts. Let us now enlist some of the visible benefits of educational web development.
Facilitation of a comprehensive understanding of the subject-matter through interactive learning techniques such as videos, audios, etc
The ease of learning anywhere and everywhere.
Cost-efficient, as a lot of websites offer free learning content.
Content is regularly updated. So children, teachers as well as parents always look at and learn updated information.
People can refer to multiple websites at the same time. So here, there's an opportunity for additional learning and references.
Some websites offer quick assessments. This helps learners gauge their knowledge on an immediate basis, and therefore immediately work out an improvement course of action, unlike the conventional examination system.
High-quality learning, owing to expert-written high-quality content.
Brainmine Tech, the leading Website Development Company in Pune and also the best Web Design Company in Pune, possesses the experience of handling a lot of modern-age educational web design and development projects. Brainmine Tech offers customized educational web designing and development to ensure that the content is conveyed in a manner required by the clients, and based on the target audience of the website.